---
PSYCHOTHERAPY
& COUNSELING
---

HYPNOTHERAPY
---

ART THERAPY
Art-As-Therapy and
Art Psychotherapy
---
DEVELOPMENTAL DISABILITIES
---
RESPITE SERVICES
---
PRIVATE IN-HOME NURSING CARE
Dementia, Mental Health, Elder Care,
Special Needs Specialist
---
CRISIS PAGE & INFORMATION
(Suicide, Domestic Violence, Sexual Assault, Post Traumatic Stress, etc.)
---
TUTORING
---
WEDDINGS & SUNDRY
Click Here for Weddings & Sundry
---
THERAPY DOG ON SITE
---
WEDDINGS AND SUNDRY
Rev. Fr. Kipp
---
LINKS
---
REGARDING

WEATHER CANCELLATIONS:

For the safety of clients, appointments will be cancelled on foul weather days that endanger transportation. As a rule, if the public schools are closed, then so is Aspentree Counseling & Hypnotherapy. The decision to close due to safety concerns is ultimately under the discretion of AC&H.
The voyage of discovery is not
in seeking new landscapes
but in having new eyes.
-Marcel Proust
Fr. Kipp's Weddings & Sundry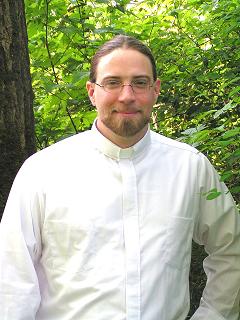 Rev. Fr. Kipp D Trembley


Old Catholic Priest in the Liberal tradition. Ordained 05/13/2017.
Mendicant Friar in the Progressive Franciscan tradition. Professed 07/24/2015.
Druid Priest in the Revivalist tradition. Ordained 06/21/2008.
Interfaith Minister. Ordained 2002.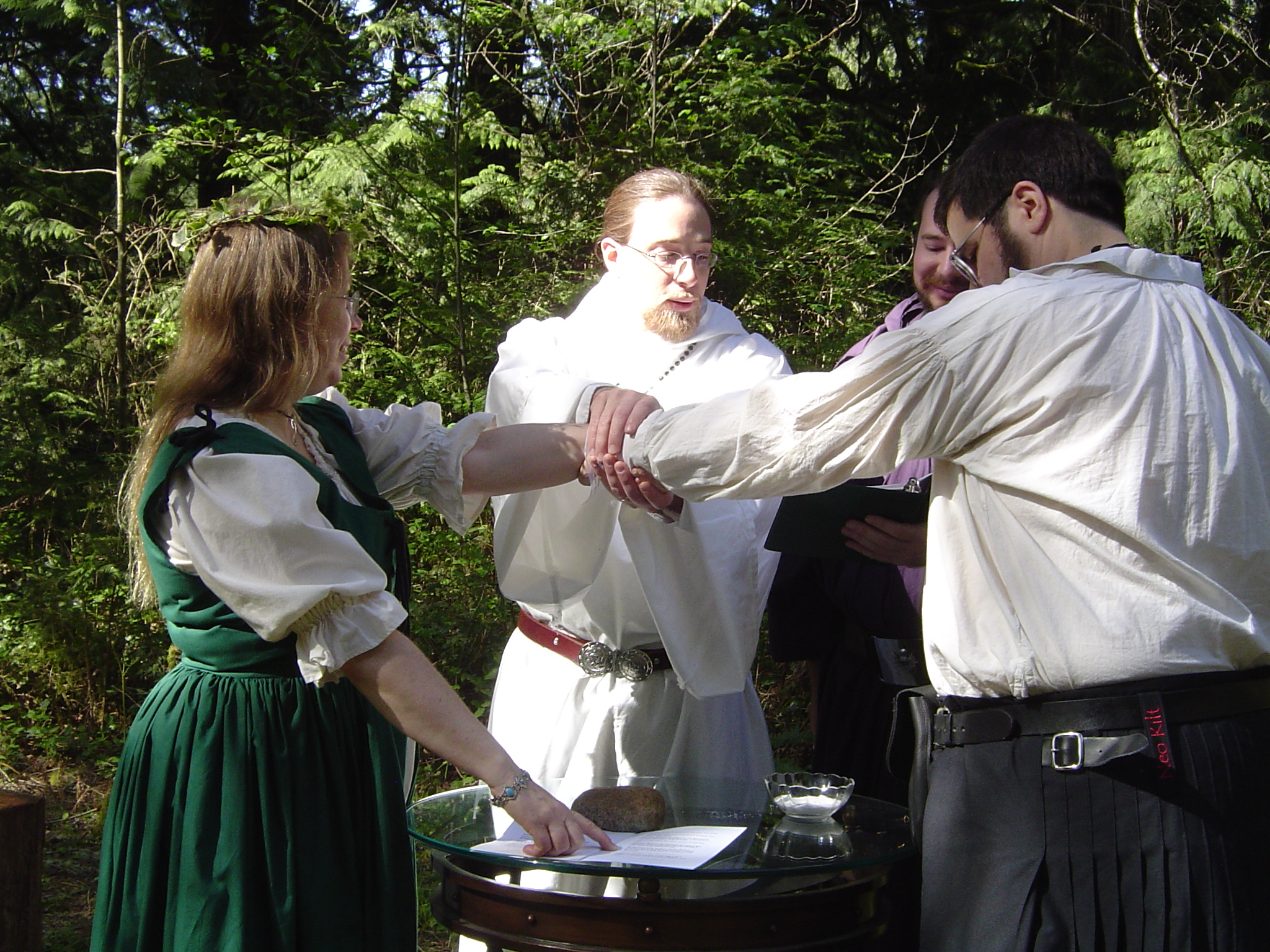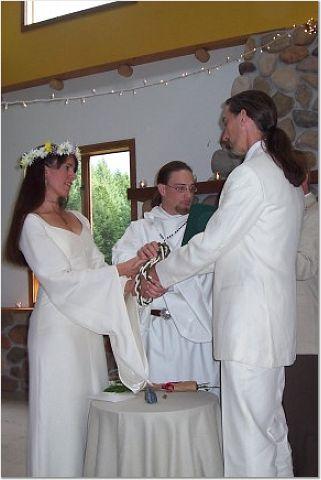 ENDORSEMENTS
"It is with absolute confidence and a great respect that we submit this letter of recommendation for Kipp Trembley. We offer our complete endorsement for consideration in any future wedding officiating services for which he may be considered. Kipp officiated at our wedding and we experienced his dedication and positive energy first hand. He has a loving, positive attitude which is infectious to anyone in the room. "
-G. & M.
"E. and I still marvel at the beauty of our wedding ceremony. Thank you so much for being a co-creator and the officiant of that blessed event. We understand now why you and your wife like to do it again every few years! Thank you so much for conducting our handfasting."
-S. & E.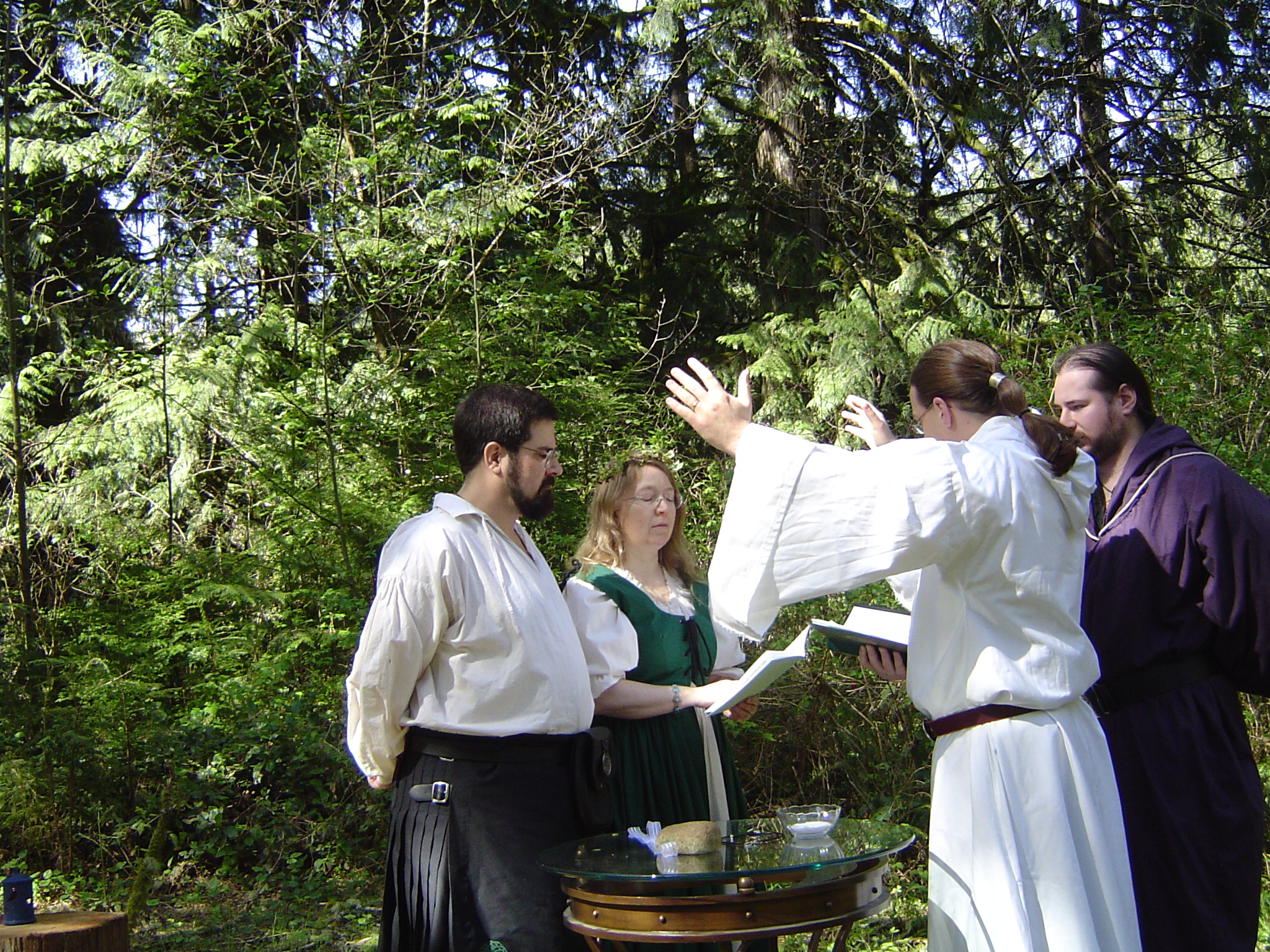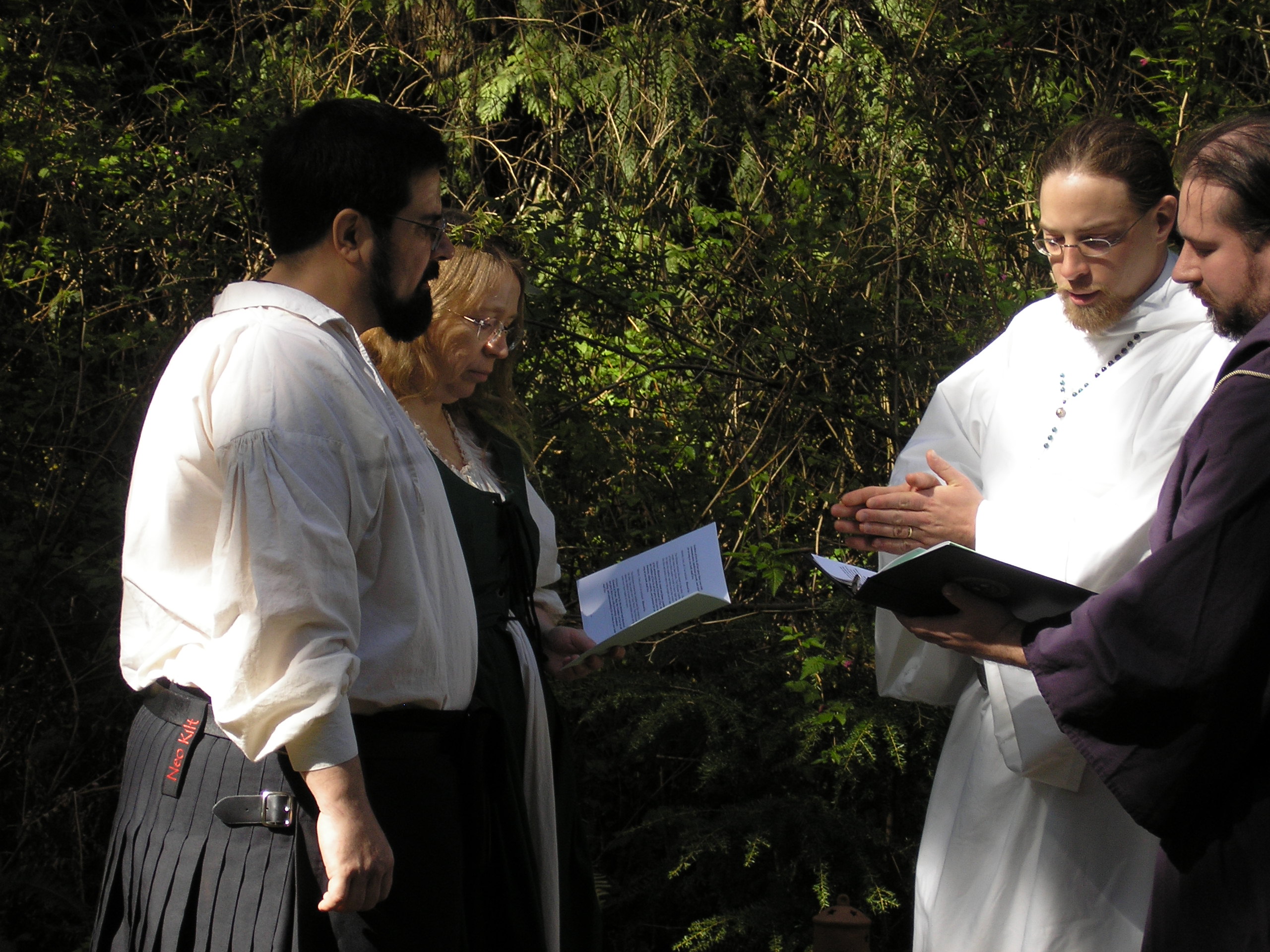 I am available to officiate any wedding, funeral, recommitment, or any other life event ceremony. I am happy to officiate Civil, Christian, Pagan, atheist, agnostic, or any other type of ceremony. Let's chat about your wishes so we can determine how we can make the day just right for you.
I officiate regardless of gender orientations- I practice inclusivity and embrace diversity.
Fees:
$500. to officiate weddings and similar ceremonies.
$15./hr and .50 cents/mile for travel.
$75. for a rehearsal appointment, if you desire to have one.
$75./session for premarital counseling, if you request this service.
My fees do not include your marriage license fee or any other permit fees relating to location or other services.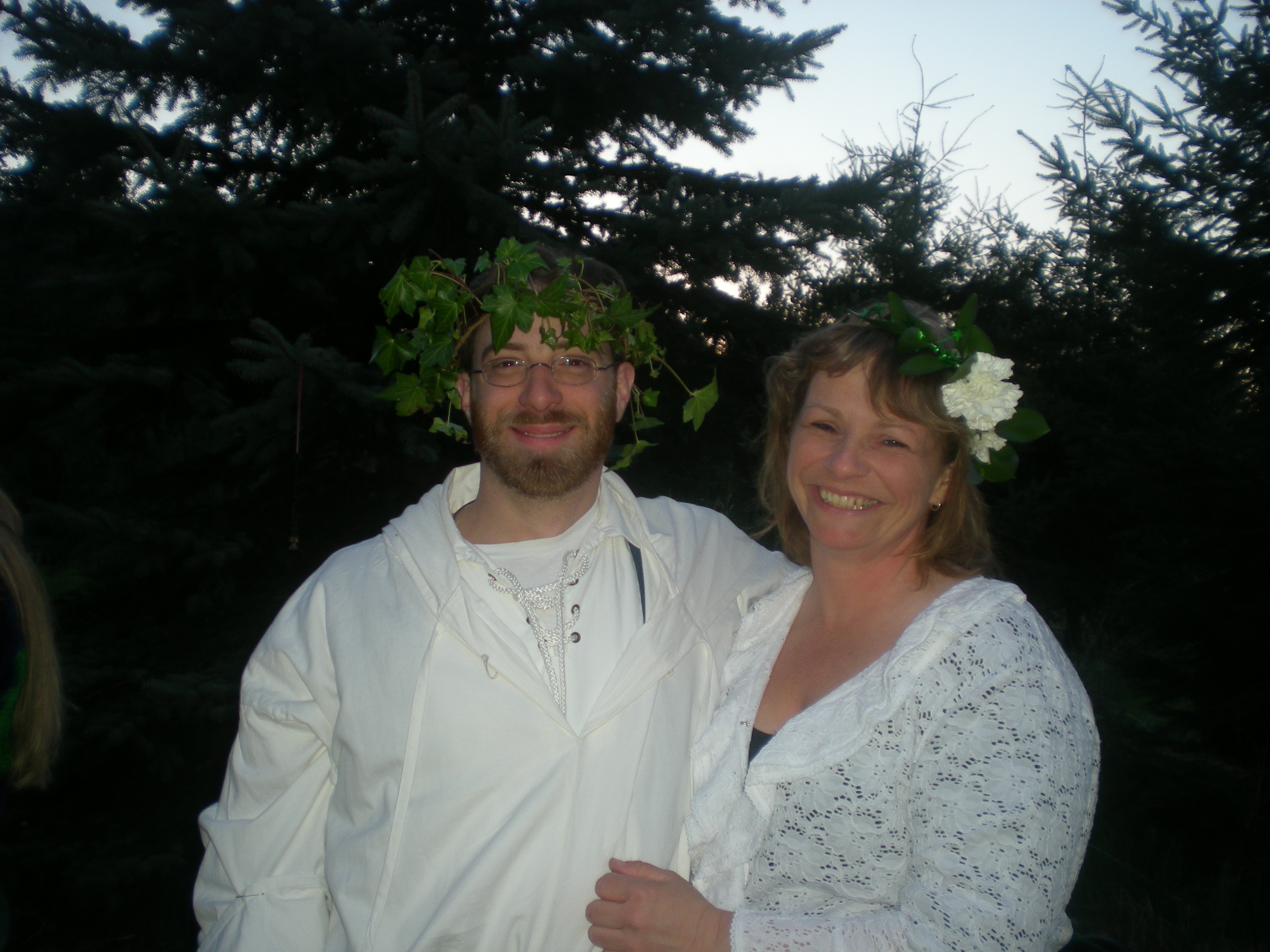 Criteria:
Essentially, both applicants must be 18 years old or older, and have current photo ID. Applicants 17 or under must have a parent or legal guardian's approval. Blood tests ande physicals are not required. State residency is not required to get a marriage license, but the marriage must take place in Washington. It is the responsibility of all applicants to have divorces final before applying for a new marriage license. Two witnesses must be present for the actual ceremony to sign the license.
What we do:
We meet and plan your event.
We schedule for wedding day and rehearsal times.
We view sample ceremonies, and work on composing one.
We customize your ceremony and vows if you wish to do so.

Preparation and signing of Wedding Officiant Agreement

.

I can design an optional wedding certificate for you to frame.
We sign/legalize the wedding license.

I mail off your signed marriage license to the appropriate agency/court.





How to book my services:


Call me at: (360) 920-7047
Email: aspenhypno@yahoo.com
Y

ou can secure me for your special day after my contract is signed by paying a $50 non-refundable deposit when we meet or as prearranged.





When should we book services:


I prefer to have three weeks if possible, so to work your day into my schedule, and for us to have a chance to meet and plan.



The process:


Every marriage license shall be issued by a County Court Judge or Clerk of the Circuit Court under his or her hand and seal. The County Court Judge or Clerk of the Circuit Court shall issue such license, upon application for the license, if there appears to be no impediment to the marriage. The couple to be married must provide positive proof of identity and age when they apply for a marriage license. No blood test is required.
Bring your license to the ceremony so it can be signed by the Officiant, your

2

witnesses and the new husband and wife. Once it has been signed by everyone, the Officiant is then responsible to mail it to the proper authorities.


<![if !supportLineBreakNewLine]>
Please feel free to contact me with any questions you may have. I look forward to the opportunity to be a part of your special day!
<![endif]>

Rev. Fr. Kipp Trembley

Phone: 360-920-7047

Email: aspenhypno@yahoo.com

Fax: (360) 851-2000

Postal Address for Confidential Packages:

Aspentree Counseling & Hypnotherapy

PO Box 2831

Poulsbo, WA 98370

Serving King, Kitsap, Pierce, Mason, Puget Sound